Playboy Preseason All-American
One of the most prestigious preseason honors in college football is the Playboy Preseason All-American Team. Beginning in 1957, Playboy magazine assembled the best college players in the nation for a pre-season Playboy All America College Football Weekend, a unique awards event that included a dream team photo session. Each year since then, star players from colleges across the country have gathered to take their ceremonial picture. The group photo has been synonymous with the Playboy Preseason All-American Team honor and the team photo regularly appears in the magazine's college football preview edition.
In the spring of 1976, Joe Roth was selected to the Playboy Preseason All-American Team. Joe was flown out to Chicago as a guest of Playboy Magazine to take part of the team's photo shoot. Joe enjoyed meeting the other players and was honored to be selected. Joe's mom, Lena, supported his accomplishments but was not a fan of the magazine's recognition.
Pictured below is the 1976 Playboy Preseason All-American Team. The picture appeared in the September 1976 issue. Four of the 12 players pictured, including Joe, were in the final top 10 in Heisman voting for the 1976 season. The three other Heisman finalists pictured are Tony Dorsett (winner), Ricky Bell (2nd place), and Rob Lytle (3rd place).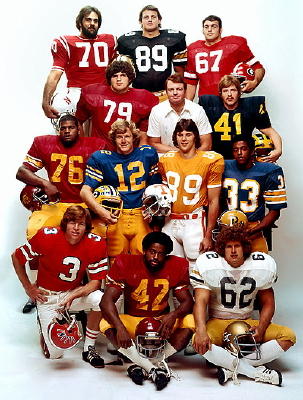 1976 Playboy Preseason All-America College Football Team
OFFENSIVE TEAM: Left to right, top to bottom: Bob Lingenfelter (70), lineman, Nebraska; Don Hasselbeck (89), tight end, Colorado; Joel Parrish (67), lineman, Georgia; Mike Vaughn (79), lineman, Oklahoma; Tom Osborne, Coach of the Year, Nebraska; Rob Lytle (41), runner, Michigan; Marvin Powell (76), lineman, Southern Cal; Joe Roth (12), quarterback, California; Larry Seivers (89), receiver, Tennessee; Tony Dorsett (33), runner, Pittsburgh; Dan Beaver (3), kicker, Illinois; Ricky Bell (42), runner, Southern Cal; Leo Tierney (62), center, Georgia Tech.
Source: The Playboy All-America