Schools
Holy Trinity Elementary (1960-1962)
Meridian Elementary (1963-1964)

Middle School
High School
College
Elementary Schools
Holy Trinity Elementary (1960-1962)
Meridian Elementary (1963-1964)
Joe attended two elementary schools. He first attended Holy Trinity Elementary, a parochial school, from 1960-1962. Before fourth grade Joe transferred to Meridian Elementary where he stayed thru the fifth grade. The decision was made to transfer to a different elementary school because the classes at Holy Trinity were too crowded. Joe began having reading problems and the Roth's thought it was best to give Joe a fresh start in a new school. Joe flourished under the direction of his fourth grade teacher at Meridian and reading was never again a problem.
Middle School

Greenfield Middle School (1965 – 1967)
From 1965-1967 Joe attended Greenfield Middle School. It was during his junior high school days when Joe started to excel academically. Joe made the honor roll every semester at Greenfield Middle School. This accomplishment would later be repeated at Granite Hills High School. In junior high Joe played baseball, basketball, and football. His quiet yet effective leadership skills were beginning to be noticed by teachers as he was selected to be the Editor of the school yearbook. At the end of eighth grade Joe received Greenfield Middle School's service award.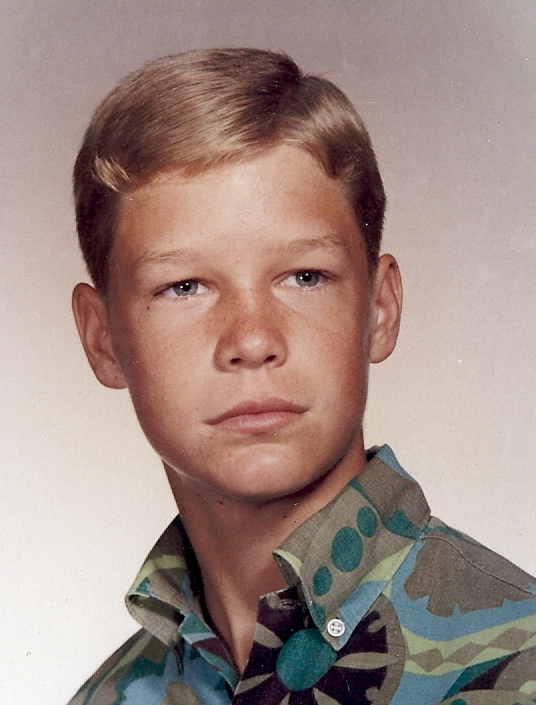 High School

Granite Hills High School (1968-1972)
As he had done previously in middle school, Joe made the honor roll every semester while at Granite Hills High School. Joe was an enthusiastic learner who understood the importance of school work. He worked hard to achieve his good grades.
Joe was respected by his teachers and classmates. His accomplishments in the classroom and athletic fields, his personable, easy going demeanor, and soft-spoken leadership skills helped him be elected as the 1972 Student Body President.
Joe excelled in high school sports as well. Joe was a three year varsity letter winner in football, basketball, and baseball. As a high school senior Joe was named All-Grossmont League 1st team QB and 1st team first baseman.
Joe was not heavily recruited by major colleges out of high school. While Joe's athletic ability was never an issue, most recruiters considered him to fragile for college football. Joe was 6'1" and only 165 pounds when he was a senior in high school. Oddly, Joe did receive one football scholarship offer from the University of California, Riverside. Joe did not want to go to school at Riverside so he respectfully declined the offer. Today, the University of California, Riverside does not have a football program.
When Joe was not studying for school or participating in his own sports programs, he enjoyed umpiring little league baseball games. He loved interacting with the kids and the parents appreciated Joe's interest and fairness in calling the games.
College
Grossmont College (1973-1974)
Joe was determined to play college football so he set a course to achieve his goal. Spurred by major college recruiters, Joe decided to attend Grossmont Junior College. He went to a JC instead of walking-on at a four-year college because he felt his chances of gaining the starting quarterback position were greater. Prior to Joe's arrival, Dave Jordan's football teams had gone 6-12 the previous two seasons.
Joe made 22 straight starts as the quarterback for the Grossmont Griffins. As a freshman in 1973, Joe led the Griffins to a 7-2-1 record. In his record setting second year at Grossmont, Joe directed the Griffins to a 10-0-2 record and their first state football championship beating Orange Coast 34-17 in the JC title game. For his stellar play in 1974 Joe was named Mission Conference Player of the Year and a JC All-American. He also received Grossmonts Most Outstanding Athlete award in 1974. Joe broke Steve Myers State JC record of most completed passes in a season (181) with 184 completion.
While Joe was achieving athletic success he never once neglected his academic work at Grossmont. Joe was not the type of person to assume that his athletic success would give him a free-ride in the classroom. Joe finished his career at Grossmont with a 3.8 grade point average and made the academic honor roll in his final year.
Joe had proven himself again in the classroom and on the field. Joe had grown to 6'3" and now weighed 180 pounds Major college recruiters were now convinced that Joe could play Division 1 football and the scholarship offers began to roll in. Joe had achieved his goal and now he had to decide which university he wanted to attend.
University of California (1975-1976)
Joe Roth officially arrived on the Cal campus on January 6, 1975. He transferred mid-year from Grossmont College to be able to participate in spring football drills prior to the 1975 season. With a state championship and JC All-American honors under his belt, Joe was heavily recruited out of the JC ranks. Joe turned down scholarship offers from many Division-1 schools including Brigham Young, Colorado State, Oregon, Oregon State, Utah, and Washington before selecting to attend the University of California. Joe ultimately selected to play for the Bears because Cal had both a passing offense and world-class academics.
Joe liked Berkeley because it was not a "football factory" and the students were interested in so many things besides football. As was the case while attending Grossmont, Joe excelled on the field and in the classroom at Cal. Joe's success on the field overshadowed his academic achievements but Joe was just as proud of his school work. Joe majored in Physical Education and finished with a 3.1 grade point average.
Joe football accomplishments at Cal are legendary. In 1975, after starting the season as the second team QB behind Fred Besana, Joe came off the bench against Washington State to rally Cal from behind and beat the Cougars in Pullman. Joe got his first start the next against the San Jose State Spartans and never returned to the bench. As the starting quarterback Joe led the Bears to a 7-1 record and the Bears first conference title since 1959. Joe led the Pac-8 Conference in passing and total offense and finished 8th in passing and 9th in total offense nationally. He also led the nation in fewest interceptions thrown (7) and longest average gain per completion (8.4 yards).
Prior to the 1976 season, Joe was a Playboy Preseason All-American and considered one of the three top Heisman favorites. Joe had matured to 6'4" and 205 pounds and seemed to be in perfect health. The season started out strong for Joe as he performed well against powerhouses Georgia and Oklahoma. For the first two games against Georgia and Oklahoma he was a 58% passer with 663 yards and 3 TDs. On the trip home following the Oklahoma game, team physician Dr. Jerry Patmont informed Joe that an x-ray from a routine exam showed a spot on his lungs. Joe never seemed to perform the same following that news despite being told a week later that doctors believed the x-ray was just flawed. However, as the season progressed, Joe's performance began to waver as he faced the mental pressure of truly not knowing if the cancer had returned. In the final eight games in which he played, Joe completed only 49.8% of his passes with four touchdowns and 14 interceptions.
While the cancer's return was not officially diagnosed until after the season in early December, Joe's family first suspected something was not right with Joe around the time of the Oregon State game. Joe continued to play and at times flash the brilliance he demonstrated the year before. Coaches assumed Joe was probably trying to do too much as the offense relied more and more on the passing game to compensate for a below average running game. The Bears finished the season 5-6. Despite an "off" year by Joe's standards, he still finished third in the conference in passing and total offense and fifth nationally in passing. Joe was also selected as a 1st team Sporting News All-American , placed 9th in the Heisman voting, and received invitations to play in all three major post-season All-Star Games.
Joe's roommate at Cal was John Matlock. John was a good friend who was with Joe right until the very end. John was instrumental in giving Joe an outlet from football. John also helped shield Joe from the press and he even accompanied Joe on his trips to the Hula Bowl and Japan Bowl. Joe was an All-Star quarterback who enjoyed talking about subjects beyond football. John Matlock provided this outlet and was a great friend to Joe.
For a recap of each football game Joe participated in while at Cal check out section
#12
.